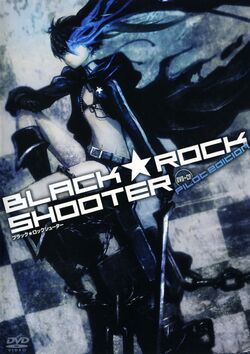 Black★Rock Shooter is an OVA adaptation based on supercell's song of the same title and is the first animated project based on the Black★Rock Shooter concept. It was released on July 24, 2010, produced by Yutaka Yamamoto and his animation studio Ordet.
Characters
[
]
Synopsis
[
]
Kuroi Mato, a tomboyish and excitable girl, prepares for her first day of school. On her way there, she first goes to a place where she can see over the whole neighborhood. Thrilled, she takes a picture with her phone, but then realizes that she will be late for school and runs off.
Meanwhile, in another world, Black★Rock Shooter fights off Black★Gold Saw, receiving a painful defeat, and
later starts on a solitary journey. Black★Rock Shooter's struggle and Mato's life are interspersed as Black★Rock Shooter approaches the domain of Dead Master.
Mato approaches school and sees another girl, Takanashi Yomi, walk out of a car. As school proceeds and the entrance ceremony starts, Mato observes Yomi and eventually goes up to her and strikes conversation. Yomi, a polite, gentle girl, is initially startled by Mato's up-frontness, but warms up to her quickly.
In the other world, Black★Rock Shooter arrives at a palace in the midst of depsair and sees her opponent, Dead Master. She holds out her hand, which Dead Master interprets as a signal to start fighting. She slashes her scythe at Black★Rock Shooter, starting battle, while in the background, Strength approaches threateningly.
Mato and Yomi start to spend time together in their daily activities. Mato joins the basketball team, and Yomi goes to the court to watch; after seeing how Mato enjoys her sport, she decides that she will join the volleyball team, where the two can watch each other. Eventually, as a sign of their friendship, Mato takes Yomi to the place with a view she had seen before and gives Yomi a present: a blue cell phone charm with a star, identical to the one she has. Yomi accepts the gift.
One day, when Yomi is practicing volleyball, she sees Mato get injured during practice and be attended to by another classmate, Yuu. Later, Mato introduces Yuu to Yomi, but both end up continuing with their daily lives.
Things change, however, during their second year. Mato and Yomi are put in separate classes. This severely cuts off the time they have together. As Mato starts to spend more time with Yuu, now in her class as her new friend, she drifts further apart from Yomi. Yomi starts to feel alone, watching Mato and Yuu play far away from her; one moment, Mato looks up and sees Yomi briefly taking the form of the Dead Master and vanishing. Before long, Mato starts to realize that Yomi is not answering her calls and texts, along with having vanished from school, and starts to believe that Yomi is avoiding her. However, it becomes clear that something else is the case, as Mato finds herself unable to meet up with Yomi anywhere; it becomes clear she is not showing up to her normal places, such as volleyball practice. Mato later breaks down when two detectives come to her house asking about Yomi and her recent disappearance, and falls into tears.
Meanwhile, Black★Rock Shooter, in her battle with the Dead Master, falls into a trap and becomes bound by chains; Dead Master walks towards her, ready to strike.
One night, Mato sees her cell phone lighting up and sees she has gotten a text from Yomi. She opens it, but the content of the text is blank. Sure that this is a sign from Yomi, Mato rushes out of her house and gets on her bike, wearing a black jacket with a star on her shirt. She bikes over to the hill in her neighborhood and runs up to the place with the view, the one she showed Yomi. In the grass, she finds the phone charm that she had bought her, and, finally realizing how much Yomi means to her, she brings it to her chest. A blue light emerges from the charm, enveloping Mato in it and lighting up the surroundings.
Black★Rock Shooter breaks the chains with her hands and walks towards Dead Master, whose attacks are now useless against her. Black★Rock Shooter once again holds out her hand. Dead Master, angry, starts backing away, causing herself to fall off a ledge. However, Black★Rock Shooter catches her and embraces her. Unable to take this, the Dead Master hisses and screams, and falls off, dissolving. The face on the body the Dead Master has left is shown to be none other than Yomi's.
Mato opens her eyes to the mysterious place she is in, and Black★Rock Shooter appears shortly after, offering to save Yomi. Mato declares that she doesn't want to save Yomi; she just wants to have Yomi back with her as a friend. She then asks Black★Rock Shooter who she is, and Black★Rock Shooter replies by merging with Mato: "I am... Black★Rock Shooter."
Mato and Yomi are later seen walking home from school after sports practice. Mato invites Yuu to come with them, and Yuu does so, with a darkened expression on her face.
Development
[
]
Full article: Black★Rock Shooter (Developments)
The project is supervised by Yutaka Yamamoto and directed by Shinobu Yoshioka; both have worked in anime series Lucky☆Star and The Melancholy of Haruhi Suzumiya. Additionally, Nagaru Tanigawa, the author of the Haruhi Suzumiya light novels, co-worked with Yamamoto as scriptwriters. The animation company that handled the series was Yamamoto's Ordet (formerly members of Kyoto Animation). huke and ryo collaborated with Ordet in the project.
The project was announced initially in 2009 and slated for "Spring 2010". On September 30, 2009, about ten months before the OVA itself, a "pilot edition" of Black★Rock Shooter was made available in DVD and Blu-Ray Disc formats. Included with the disc was artwork for the anime and a "live performance" version of the song Black★Rock Shooter.
In Tokyo Anime Fair 2010, an anime conference held in Japan, it was confirmed by the production staff that the OVA would be made available in free streaming format as part of their campaign to advertise the show. It was to be available between June 25 and August 31, 2010. However, due to unforeseen circumstances, the release of the OVA's DVD was postponed to a later date, with the intent of expanding or improving on the promotion of the Black★Rock Shooter Project.[1] To compensate on the delay, all copies of the DVD format included with the August issue of Hobby Japan, Animedia, and Megami magazines had a certain merchandise item unique to each magazine brand.[2]
At the start of July, the promotion campaigns continued, starting off with a collaboration between blogger Danny Choo and Good Smile Company to launch 10-minute "exclusive footage" of Black★Rock Shooter in simultaneous events in Japan, Los Angeles (through the LA Anime Expo 2010) and Paris. In the said footage (which was not 10 minutes as announced but slightly over a minute and 30 seconds), it was deemed official that the Black★Rock Shooter OVA would be released in July 24, 2010.
On the appointed date, the OVA was streamed (without subtitles) online and the DVD (with subtitles in seven languages) was released. DVDs were also packaged with figures, Figma and Nendoroid.
On November 14, 2010, at the AFAX convention, Aki Takanori (president of Good Smile Company) revealed at Kana Hanazawa's Q&A session that a sequel would be made. However, Takanori quickly added on his Twitter that while they were very eager about the project, nothing has been confirmed.
Music
[
]
Full article: Black★Rock Shooter Original Soundtrack
A soundtrack is later released, entitled Black★Rock Shooter Original Soundtrack & Remixes. The two-disc album contains background music used in the 50-minute OVA and remixed versions of selected tracks.
Notes
[
]
To aid with references, the unnamed location of the battle between Black★Rock Shooter and Dead Master is called as "The Otherworld" or simply "Otherworld".
It is unknown at what point Black★Rock Shooter and Mato fused and entered the Otherworld; whether it is right after the fight with Black★Gold Saw, before the fight with Dead Master, or right before the chains are broken. As Black★Rock Shooter does have atleast one scar (that we can see) before her fight with Black★Gold Saw and does when she meets Mato and afterward, it can be assumed Mato was not involved in fighting Black★Gold Saw.
Throughout the entire episode the characters in Otherworld did not speak to each other.
References
[
]
External Links
[
]