Jurassic World: Dominion Dominates Fandom Wikis - The Loop
Play Sound
Black★Rock Shooter FRAGMENT (ブラック★ロックシューター FRAGMENT, Burakku Rokku Shūtā FRAGMENT) is an upcoming mobile game developed by G2 Studios for iOS and Android. It is set to be available for download in Japan from Autumn 2022.[1] International release is being planned for early 2023.[2]
Synopsis
[
]
In the 22nd century, humanity has established a global network that manages the world's public transport, factories, power plants, personal devices (mobile phones, PCs) etc. However, the network eventually gives birth (possibly by accident) to an A.I. entity called Innocent Cloud that proceeds to take over said network and then attack humanity with a virus, putting the world in jeopardy. In response, a team of warriors immune to the virus called Synthetics are developed to fight back against Innocent Cloud. The struggle proves to be a long-term stalemate however, at least partially due to humanity having lost all their advanced resources to Innocent Cloud and having no real way of contacting each other around the world. This also means that they struggle to trust the Synthetics that were sworn to protect them.
The player plays from the perspective of a (currently) unnamed protagonist who is tasked with coordinating the Synthetics into battle and embarking on a journey with them to stop Innocent Cloud once and for all. At the start, the player infiltrates a facility where Innocent Cloud is preparing its latest weapon. Upon infiltration however, the player discovers an amnesiac black-haired girl with a blue flame igniting from her eye...
Characters
[
]
| Character | Affiliation | Japanese VA |
| --- | --- | --- |
| Elishka | Bunny1 | Akari Kito |
| Yuzuki | Bunny1 | Kana Ichinose |
| Hu-rin | Bunny1 | Miku Ito |
| Nara | Bunny1 | Kaede Hondo |
| Yvette | Forge5 | Ayane Sakura |
| Nichola | Forge5 | Hisako Kanemoto |
| Heroise | Forge5 | Shino Shimoji |
| Adelaide | Forge5 | Shiori Izawa |
Development
[
]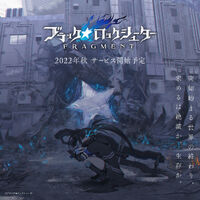 Black★Rock Shooter FRAGMENT was first announced on December 26, 2021 by the game's official Twitter account[3]. The announcement established the game as being separate from Black★★Rock Shooter DAWN FALL, with its own story set in a different world.
On January 1, 2022, the official Twitter account shared an image of a New Year's message from Good Smile Company and G2 Studios. At the bottom of this image is a code in Caesar cipher; when each letter of this code is shifted forward by six letters, the code reads "the space-time gets mixed, divided and collapsed".
On February 8, 2022, the official Twitter account announced that it would begin sharing background and concept art for FRAGMENT starting on February 15. Reveals for these artworks occurred on a regular basis (three to four days for background art), then gradually changed to an irregular basis once they started revealing concept art.
Production Staff
[
]
A list of main production staff was released on March 22, 2022:[4][5]
Design Direction: huke
Scenario / Script: Ichiro Sakaki, Okina Kamino
Teaser Visual: Rui Tomono
Logo Design: Hiroto Sugawara
Publisher: Good Smile Company
Developer: G2 Studios
Theme Song: TeddyLoid
Character Design: Ashima, Kanase Bench, kwgc, Kuronoi, Genyaky, Scottie, Zenmaibook, CHANxCO, Rui Tomono, Mephisto
Gallery
[
]
Full article: Black★Rock Shooter FRAGMENT/Gallery
External Links
[
]
References
[
]